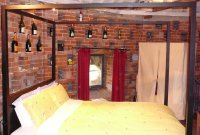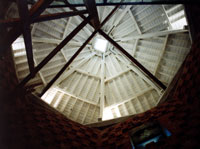 A Dovecote for the 21
st

Century

The main landing bedroom is situated at window level with views over the gardens. It also gives a spectacular view of the exposed underside of the roof structure, recently renovated in its original style.

There is a king sized bed, remote TV/Video and of course a wardrobe and storage space. The CD player situated in the lounge area can also be operated by remote control from here. Close the curtains, light the candles and the setting is complete.

A travel cot can be arranged for those with 'smaller' bed requirements.