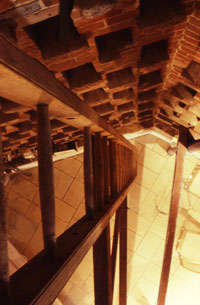 Activities
On the doorstep
The simple things come easily here - just close the doors and lock out the world. The remaining windows are at first floor level, so privacy is guaranteed. The inner glass door is semi-reflective glass so you can even leave the outer door open without anyone seeing in. Remember that when it gets towards dusk, the situation is reversed - don't forget to close the outer door!
There are TV and video players in both the lounge and bedroom, and a mini HiFi with digital radio and media player connection on the ground floor. We have left a small variety of books, videos and CDs, but bring your own if you like.
Outside, use the picnic table and chairs stored under the stairs, or go for a walk down the bridleway to Hatford or the Carswell Golf and Country Club, or up to the village of Buckland, stopping at the Lamb Inn. The River Thames is some two miles to the north.