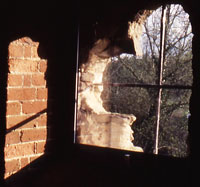 A Dovecote for the 21
st

Century

Designing the 21st Century facilities for the Dovecote has been a challenge and we hope you will enjoy the results. The external services have been relocated to a grass-roofed shed, minimising wasted space.

There is underfloor central heating, a fine kitchen, luxurious sauna, a spacious lounge & dining area looking up to the glass fronted balcony bedroom which gives a stunning appreciation of all the original features - the 1100 brick nesting boxes, the timber potence (a rotating ladder giving access to the nesting boxes), the roof with central lantern...

The Dovecote is a breath-taking structure, and we are sure it will provide you with an unforgettable experience.