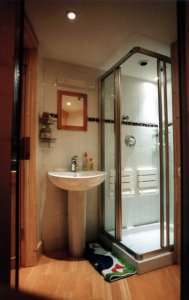 A Dovecote for the 21
st

Century

The unique shape of the Dovecote and the space available for the shower room gave rise to a challenge to combine the four facilities (sauna / shower / wc / basin) within a limited and unusual space. We hope that you will find the resultant shower room meets your every need.

The shower is situated just a pace from the sauna, making nipping quickly between the two easy. It's the largest tray we could fit, and because of this we have been able to fit a Mira shower seat and a pair of pressure shower heads for your complete enjoyment.