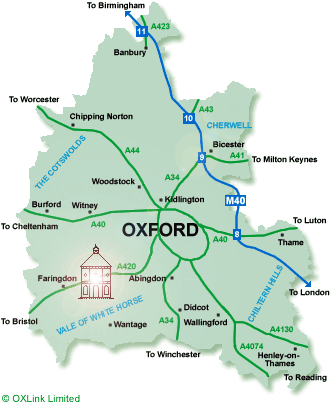 Location
The Dovecote could not be situated more centrally in England, within an hour and a half easy driving of any coast. Motorway access is straightforward via the M4 / M40. At the end of the journey, there is a half mile of tree-lined drive leading to a peaceful rural retreat.
The Scots pine lined drive is known locally as Beech Lane even though there have been no beech trees there for years. They will be replanted.
The Dovecote is situated to the east of Beech Lane while Home Farm lies to the west. Beech Lane is a bridleway which continues southwards through the warren and beyond to the villages of Gainfield and Hatford. To the west lies Carswell Golf and Country Club.